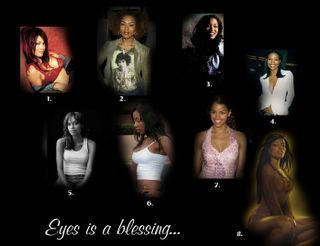 Inspiration for the eyes and then the soul...

Celebration over here too!!
I'm borrowing from a fellow blogger who took out a moment to give praise to his personal choice of lovely ladies... I wanna give a shoutout to the Hustleman Leon over there at http://listentoleon.blogspot.com/ Check him out sometime because he is hysterically funny and brilliantly creative...
So, here I sit putting my mind on cruise control and thinking about the lovely ladies.. What a beautiful way to escape on an Sunday night.. I'm taking a break from a little remodeling and also from watching the Raiders get handed another loss. It's gonna be a long season for those fellas but I can brush it off 'cause I'm in LA.... But anyway, on to the dreams in full motion... These ladies represent why having eyes is such a blessing and why being able to take in such magnificent beauty can do wonders for your heartbeat...your soul... And there's no real order in my appreciation of these ladies though there is one on this list that gets a longer, slower special-errr wink than all the others...*wink*
1. Garcelle Beauvais- I've been diggin this lady for a long time.. Her beauty is fabulous. Her smile seems to always accompany some cool laughter. She seems like she'd be fun to hang with... I've actually bumped into her three times at the same location in the last ten years. I'm speaking of the Beverly Center in LA. Each time she was never dressed up but she always looked incredible. And one of those times she actually saw me, made eye contact, smiled and said hello. I said "hey, how you doing?" all the while not making it obvious that I recognized her. She laughed gently, seemingly in a blushing sort of way and then said "fine." That was it.. The moment was definitely appreciated... Gorgeous lady...
2. Angela Bassett- Incredible star who should be doing her thang in a lot more movies.. It's a shame we dont see her that often any more. This lady got incredible class matched with tremendous beauty and personality... And funny thing, I had an Angela moment too.. Maybe it's the benefit of living/working in LA; I dont know... I ran into this incredible lady on an elevator at a doctor's office building near Cedars Sinai Hospital. Again, I didn't make it obvious that I knew who she was but God smiled upon me with this moment as she and I rode up the elevator alone. Not that anything substantial happened but being in her presence was definitely a feel good moment. She smiled and said "hey..." I said "thanks.." She laughed and said "what for?" I said "for saying hello..." She laughed again and then we reached the eleventh floor. I held the door open for her and she walked out still with the same smile.. She seemed like a woman with such a peaceful presence that all you can do as a man is stand back, watch her walk and witness the glow... Inspiring...beautiful...
3. Danyel Smith- This is one of my favorite authors.. She's off the hook kind of cool.. Beautiful.. She's got style! (hmm...I'm hearing Nate Dogg sing that line from a new DJ Quik song that's getting heavy rotation in my ride these days) Danyel seems to always be creatively busy and I love that about her... Just watching as a fan and admirer she definitely keeps me inspired.. She's got a blog that the whole world should be watching 'cause she's so darn cool..lol.. Check her out at http://nakedcartwheels.blogspot.com/. Her latest book is called Bliss... fabulous! Great lady...
4. Gabrielle Union- Oooh yummy, another lovely lady whose beauty goes deeper than the skin. Gabrielle seems like she got some serious brain power aka intelligence but at the same time she could probably be silly, let her hair down and be the woman a brotha could wrestle with in front of the fireplace. I like her style though I'd like to see her get into something deeper film-wise... She's lovely...
5. Rosario Dawson- Sssssss..lovely.. I've liked this lady for a long time.. Everybody likes to bring up the fact that she was in that strange movie years ago with all those weird kids when she was a kid..lol.. Yeah, I saw that and she was cute but the grown up version is what puts her on the map for me. Lovely... beautiful.. gorgeous smile...eyes so wide you'd prefer her not to wink 'cause you dont want to miss all that beauty.. I love her voice when it's thick with that accent of hers like it was in that Spike Lee basketball movie that Ray Allen and Denzel Washington starred in,
He Got Game
. It's too bad her character was all about the money but hopefully in real life this lady is all about love and blesses any man in her life with a million hugs... She's fine...beautiful..
6. Layloni- This is a one named beautiful star in my book.. An angel, a queen, a woman destined for the kind of greatness that comes when you match wisdom with beauty.. That's when she'll really be off the hook incredible... She's hot... Got tons of style... I've been blessed to hear her laughter and its like music! Talk about a million hugs, I'd wish for two million.. Watchout for her gracing the cover of something wonderful in the near future.. She teaches dance and got that kind of spirit like Angela Bassett to where you just want to close your eyes(preferably while in her arms) and vibe off of her energy.. And when you leave her presence, the memory of that moment keeps you smiling for days as you linger in thought, wishing you could call her up and say in your most sexiest voice after you clear your throat a few times "hey, what you doing right now..." And then she says teasingly, "hmm..wouldn't you like to know.." Beautiful lady...
7. Claudia Jordan- Yo, this lady got style... I've seen her with different looks like she's transformed herself into a whole new way of looking incredible.. Even her conservative moments on the Price Is Right had her shining with beauty... Hopefully she'll hook up some cool movies in the near future.. Show a little shine from within 'cause that's where it all counts despite being such incredible eye candy... One of my favorite moments of seeing Claudia look fabulous was in the beginning of a Joe video. I think it was "I Wanna Know" where he was trying to get her phone number in an alley way. At the time, I was trying to use power of thought and make a switch. Have Joe sit at home watching me trying to get Claudia's phone number! Ha Ha! I wish this lady much opportunity for success....lovely..
8. Syleena Johnson- Whoa..this lady got style and she got soul... Her soul drips like maple syrup, thick and rich... She takes you back and moves you inside... And on top of being blessed with such a powerful soulful voice, she looks lovely... Whew... I'm glad she's able to continue putting out her own special brand of music that everybody needs to checkout.. And when you see her on the cover of her latest, all you can say is dayum! Whew.. she make you conjure up all sorts of thoughts with the title, Chapter 3: The Flesh. Now what ever could she be talkin bout lookin so incredible and no doubt sounding fabulous!?!? lol.. It may be a chapter you want to repeat over and over... yummy kind of lovely.... beautiful rich soul... The lady can sang too! lol.. *smile*
Much respect and sincere admiration for all these lovely incredible ladies... This was a good esscape for a moment... Now back to some realness cause I got chapters of my own to explore... *smile*