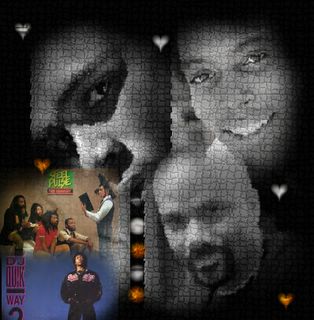 Weekend

This past weekend was pretty cool... Life in LA is always a pleasure party for the eyes and observant minds like myself. I hungout at a birthday party Saturday night, which was real cool. I was blessed with plenty of hugs and some delicious finger foods. Met up with this fella that is super cool.. Turning out to be a good friend that I can chill with and not be bothered about jealousies or any kind of BS because the brotha is cool and sincere. He got himself together and still got a little street in him... He talks major shit but at the same time is blessed with a lot of wisdom about life. Sometimes I feel like I just met up with the real version of a couple of characters that I recently wrote stories about. Maybe that's why we hit it off so quickly; brought together by a mutual appreciation for real cool throwback jerseys and then we just hit it off like brothers. Funny thing though, we met maybe about two or three months ago and have hungout maybe five times but I still dont know his name. Next time I see him, I gotta get his name so I can properly dedicate a little space to him. He always greets me with "peace and love" and coming from his warm spirit you can always feel it... I'm blessed to meet that brotha...
Sunday was a fabulous time spent attending a wedding. A good friend of mine named Patrick got married to his beautiful bride. Patrick was beaming nervously in this small but very cool chapel on Wilshire Blvd in LA. I hadn't been to a wedding in probably ten years! It was nice to go to one for a change instead of witnessing folks breaking up... The bride was in tears and Patrick played it cool... It was nice...
After that, the reception was held at their new house in the valley. I had a prior commitment to take care of at the UCLA festival of books but when I was done I headed out to the reception. I was motivated to go for two reasons. To support Patrick on his special day and to also checkout this lady that I'd seen amongst the attendees. Whew.. the young lady was fine!!! BUT...she was with somebody so I couldn't do anything but appreciate from a far... That brings me to the point of this post and how all too often I see fellas mistreating their ladies. The ones that dont deserve an incredible woman seem to always have one by their side and this moment was no exception..
At the reception I got my food, chilled with some friends and by some odd moment of luck I ended up seated across from the beautiful young lady and her not so bright man. He tried to flex his strength I guess by telling her to shut up because she was supposedly asking him too many questions. Then he walked away. Beautiful saw my expression/reaction and said softly "crazy, huh?" I couldn't believe how dude was acting towards his lady. She asked me if I wanted to drink what I noticed her man was drinking but I declined. I told her I dont really drink that often. I said it in a cool way. I was trying to show her how she should be spoken to, with kindness, sincerity. She shouldn't be stabbed with angry words blurted out at her. She smiled and kind of exhaled. We looked at each other as if sharing a mental hug. Then her man returned. He must've picked up on the relaxed vibe so he introduced himself to me, offered me a drink and then tried to make conversation... It was interesting... it was fun.. This was a good weekend where my personal soundtrack included two favorite CD's that brought back memories of good times in LA when I wasn't always so in tuned and observant.. This weekend I was rockin to one of my all time favorite Reggae albums(which is what it was when I originally bought it but now I got it on CD)
True Democracy
by Steel Pulse.... Classic!!! And I was also enjoying
Way Too Fonky
by DJ Quik one of the best producers ever! I would love to have a CD of all his instrumental jams because his productions are amazing... Now it's Monday... time to get back into the grind.... As my man says... peace and love....