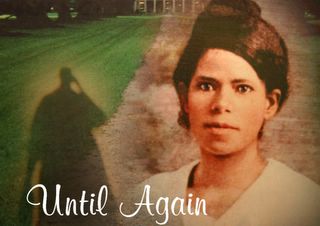 Zenobia

I've got two very special stories that should be out very soon. One is a contemporary thang aka a "street" novel called
My Life Is All I Have
and the other is what I'd like to share once again right here. It's my masterpiece called "Until Again." It's part contemporary and part slave narrative. This little bit is taken from the slave narrative part.
Until Again
is such a powerful journey that takes you to so many places, emotionally, visually, etc etc... This story will be devoured once it gets out there *smile* but for now I'd like to wet your appetite just a little with this excerpt... In it you will see when a young man(Jalen) comes to give Zenobia the news that her man(Cudie) has died.
======================================================
Jalen's voice grow silent and he look away. He try to talk bout something else like he afraid.
"Sho is hot, ain't it? You remember when you come out of them woods that time?" he say all fidgety like.
"Jalen, what about Cudie?"
"Well, Miss Hattie say I should just give you this letter, first. This here what Cudie wrote to you a few days before his wounds get the best of him…"
"Cudie dead?"
"Yes ma'am. He take ill after those men beat him. Miss Hattie try to tend to all his wounds but he come down with some kind of fever that just don't let up. Maybe he know what gonna happen so he have Miss Hattie bring him something he could write on. I finds a paper sack in the barn and tear a piece of it to give to Cudie. This what I bring to you…"
Jalen place what Cudie write to me beside him. He stand up and walk to the door. He say, "I best go cause I sure ain't mean to bring you so much grief. Miss Hattie say she sorry and Eula waiting for you…I best go now…"
Jalen walk out the door and leave me to my silence. My heart feel like it's no longer beating. I look down at the piece of paper sack and see Cudie's writing. I could tell it's his. I know how proud it made him to be able to write something and then read it back. I wish he was here now, reading to me cause I know his words come from his heart.
I sit down beside the letter but I don't pick it up just yet. I look down and notice my name, written by Cudie as best he could. He ain't write it out all the way so he just begin the letter with "Zenob." I smile and then I picks up the letter. Just below my name, it reads:
This here letter so hard for me to write... I very sickly and can't think too well. One thing for sure that ain't hard for me to say is that I love you with all my heart. I ain't sure we see each other again, at least not alive but I believe we find each other somewhere. Zenob, you always say dem words I like to hear and I believes in my heart that God make that happen. I prays when you get this letter, you say dem words again and when we find each other with no Massa to fool with and no more being a slave, we gonna jump dat broom into a life we shoulda had now… I'ma rest for now and I know you go'n be the best mammy, any chile ever know'd…

Cudie
I continued to read Cudie's words over and over until my heart can't take it no longer. Tears drip from my eyes to the piece of paper. Some of the words mess up behind the wetness and me trying to wipe it off. All I can think of is that Cudie be dead now but I try my best to do as he would want. I have to be strong and take care of my child. When I'm able to, I go see Eula but for now all I can do is picture Cudie and the last time I seen his handsome smile. I clutch my heart and speak so that he can hear me say his favorite words, "until again, Cudie, until again…" And then I close up the letter, never to read it, ever again. I place it with the one I've been holding on to, to give to Eula. I have to be strong for my child and for myself. I can't think bout Cudie no more. I gots to worry bout myself.
Though I tries hard to believe that what I learn bout Cudie just the same as any other bad news, I find myself unable to stand. I becomes a little weary so I lay myself on the cold hard pallet and begin to release all the tears that's been fighting to leave my closed eyes. I guess I love Cudie more than I ever realized. I feel my spirit wanting to give up but I know I can't. My saddened heart make my body feel so worn down. Like something heavy, pulling me that way. I wants to just sleep forever.
============================================================