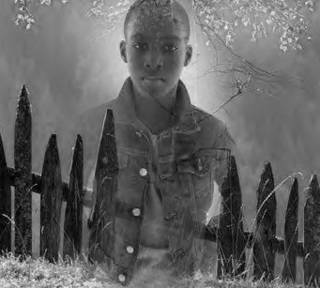 Innocently real...

What keeps me the way I am and how I feel... That belief in part that love remains so real.... Innocence.... I know I've seen a lot and been through some stuff but somehow through it all I've kept a certain boyish innocence... I still get nervous before saying hello or introducing myself to a woman that has caught my eye. Similar to that time back in Junior High when my heart was beating so hard, you could see my shirt actually moving. I thought I was gonna have a heartattack. That happened because I wanted to speak to this fine ass girl named Dedre Chachere... She would later turn me down because she said I was too young for her. She was a whole grade ahead of me but there were times when she would look in my direction and say "there's something different about you... you're a nice guy..." Those sort of words have followed me forever and so has the nervousness... It's that innocence that has remained with me like a badge or an encouraging reminder...
Now, I walk with a certain degree of sarcasm and the patience wears thin pretty quickly but most of my wounds remove easily, well...for the right somebody they do. I spoke to someone today who voiced their displeasure about women, specifically black women. He was angry because of the ones in his life recently as well as one particular woman who made a good friend of his reach the same conclusion that he did... They both are on that kick right now of going elsewhere for their female companionship aka not dating black women. I can't go in that direction. It makes no sense... Never have I been wronged by "black women." I've only had situations not workout with three or four in my life. They happened to be black but their decisions weren't based on being black or being a woman. They tripped on their own, which of course was silly because I'm a fabulous dude! (laughing) JUST KIDDING.... I can't give up on women... Refuse to give up on love... That innocence keeps me that way... What's changed is that I'm learning to communicate my displeasure and I do carry some of that(a lot depending on the day) with me... Baggage left behind by certain ladies, each one reminding me of good times and each one reminding me of bad. A couple of them even have a special asterisk by their names and then if you drop down to the description detailing why there's an asterisk, you'll see the word(s) asshole. I'm only human, but hey...I'm still innocent too...
Something that I like to do is collect greeting cards...blank ones with beautiful pictures.. Cards that I can one day fill up with words because I was inspired to do so. And then I'd send them to friends and family and not just on holidays but any day the feeling hits me. Or, I'd send one to some unsuspecting person like a beautiful, gorgeous doctor that I've admired who seems very genuine like she deserves the world because I know she's probably real cool people. I can see it in her spirit. I hope this gesture will inspire her smile and eventually she'll say thank you... That sort of response I place in my heart and take it with me. It's a real cool feeling that comes with the territory of being a giver. (smile) I have no expectations for more. And then I smile when my words are taken even deeper than they're sometimes mean't. Certain friends become speechless.... disappear... and then wonder... But yo, all I've done is express truth... appreciation...admiration...respect...love... All that good stuff hangs in my heart like shirts in the closet waiting to be worn and perhaps shown off to the world... And I love to give sincere shoutouts.. The sort of thing that has meaning and can be felt by those you acknowledge. Love is never a practice run for me; it's the way I live one hundred percent of the time, probably leaving myself open for the possibility of disappointment... But guess what? Whatever will be....will be...