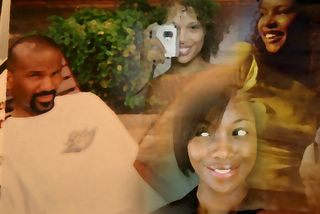 Blame It On The Vibe

Just blame it on the vibe that I had this weekend. That certain unexplainable something that lifts your spirit to the surface and gives you an aura that attracts and turns heads....perhaps.. I dont know but I had something going on this weekend. Maybe God squirted some magical dust on me as I was cruising around LA and it gave off an undetectable scent like a pheromone.. Or maybe it was an extra pep in my stride because I received an email from an angel(SS) that sent me to the moon, so to speak... A brotha was turning heads this weekend and it was cool but I stayed out of trouble. I just soaked up the positive energy and continued on my way. But, there was one thing that happened that I can't let go unnoticed without documenting it in my blog. This young lady of only 29 years old came over to me at the sports bar and was seriously hitting on me. It happened while watching the Steelers lose to the Patriots. She was giving me hugs and acknowledging my height like I was Lebron James, Kevin Garnett or somebody with a combination money and height! She wanted to buy me something to eat, something to drink and on top of that she wanted me to get her pregnant!! WHAT??? I mention her age because she kept repeating it to me and saying that she's getting way too old and wants to have a baby....NOW!!
Then she said "I'm not gonna sue you, I promise.."
She said that I'd only have to take care of her during the last four months of her pregnancy...In my mind I'm laughing and saying "oh my goodness!" This crazy vibe was hittin on all cylinders this weekend!! I'm blessed that the head on my shoulders works exceptionally good and knows how to over-rule any kind of thoughts that would surely get me in trouble...(smile) I'm still laughing about the way the conversation ended with this young lady. Her name was Nicole..
She said "my friends call me Nikki but because I want you to get me pregnant I want you to know my real name which is Nicole..."
And thus, my weekend ended and I was happy to get home safe and sound. I'll laugh about it some more I'm sure...