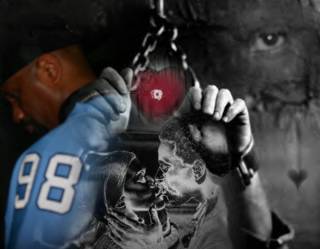 Chained By A Crazy Dream...

During the holiday season next year? I wanna be in the country, chillin in the cold weather and surrounded by beautiful colors and dreams... I wanna be with somebody then, sharing my history and learning about hers, no doubt just as fascinating. I wanna detour and sign books and thangs... Tell folks that love is important and dont always have to be a painful, drama filled journey clogged by two minds clashing and wasting unnecessary time strangling each other's existence.
Yo, I wanna share some hotlinks and rub off the grease with soft kisses. Take her to places I like to call my heaven on earth and discover new areas along the way... Make some plans for the meantime.... for the future or whenever; I'm flexible... Share my world as she shares hers... Allowing no boundaries to exist unless you count laughter and smiles because most of our conversations will end and begin that way... Only time floats in front of us as we do our best to make the best of every second... I'll chop down one of them pine trees growing in the field in Texas or just decorate all sixty of them (my last count) with ornaments and pretty garland. Run around like little kids because we created our own little Santas village. Who this partner be is unknown to me but she will be found and along with success and a re-dedication to my dreams, it's all gonna happen because I'm claiming it and I know that this can be..... sincerely, a most of the time good guy known as Anthony....