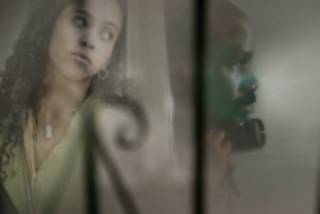 All 2 Familiar

Damn, it's a trip how I can find so many that look like her. Her, meaning the one who tossed away my heart one early morning while I still had sleep in my eyes. Strangely enough, nothing in my eyes could keep me from making sacrifices to do for her, though she would later claim that nothing was ever done on my behalf or in other words "I ain't did shit for her!"
The memories left behind from so called doing nothing reverberate in that place within me which turns love to hate and admiration to retreat. I say retreat because like I said in the beginning, it's a trip how I find so many that look like her.
One weekend I spotted a smile pointed in my direction. The image was a little blurry because I was trying to maneuver through a busy westside parking lot in LA. Ralphs had customers pulling up nonstop which meant I needed to keep an eye out for folks backing up, kids running everywhere, and shopping carts mysteriously creeping along. One of them cars had that smile I was talking about. She waved and then when her hand moved out the way, I was able to get a glimpse of her face... "Damn!" I kept going...
Aurora looked lovely on stage and I hadn't been to this club in over a year. I know her name only now because after she shook her bootie and put on a lively show, she came around to thank all the fellas throwing tips her way. I was one of those fellas. Something about her had me thinking old times. Her body, her complexion, her hair, the way she walked and the way spoke softly in my ear when she hugged me.
"Damn..." I shook my head.
Aurora said to me "enjoy the show and I'm gonna come back to you a little later to see if you're ready for me..."
I nodded my head to acknowledge the possibility of something lovely about to happen between us but after she walked away and I'd seen her disappear into one of the back rooms, I was gone...
Yeah, I get a lot of similar smiles winking at me and in all seriousness, I only joke about it bothering me. If it's to be then it's to be... Hate dont last forever but love does, especially from a man who truly knows how to give it, non-boastfully and always sincerely... And maybe one day, God will give me the power again like he did on that special day with "her." I can't imagine that ever happening again, though. A perfect day for a proposal when God blessed me with the power to control time... and thus... I was able to make that day and especially that moment, perfect... I really struggle to see that happening again, though I guess it could. I'll just make it different and better!