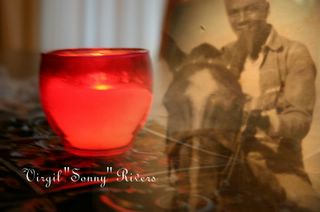 VRII

Juneteenth weekend fell at the same time as Father's Day this year. That seems like a beautiful time to mix in the two special reasons for celebration. Of course with respect to my situation, I celebrate in memory, which is appropriate considering the reason for Juneteenth is something we should remember and constantly remind ourselves in order to truly appreciate where we came from...
This weekend I didn't do much to celebrate either occasion. I worked and I treated myself to two movies and some junk food. A friend of mine (SG) reminded me of what this weekend was, however I did happen upon a little street celebration in Leimert Park on Saturday that was nice despite overhearing three older black women ask each other "what is Juneteenth?" That kind of blew my mind but then again you sometimes find life in LA so far removed from our cultural identity that it shouldn't have surprised me... Still, I had a good time... There was some beautiful artwork on the sidewalks, the smell of BBQ in the air, people dancing at one end of the street and in a parking lot I could hear the sounds of a live band playing an old Crusaders song. It reminded me of my uncle Richard because I heard a trombone playing similar to the way he likes to play his horn...
But anyway, Father's Day.... Juneteenth.... I remember my father celebrated history all the time. He loved to remember and to discover. He didn't really travel back in time the way I do by searching roots, traveling and connecting with old people and spirits but he did love to travel. Most of the time as I've gotten to know his life in hindsight it appeared that he walked around the past and kept his distance from the deepest of roots. He lived that southern/country life growing up so I imagine he couldn't wait to getaway... He's traveled and seen every country you could imagine and has made the highway journey many of times from Cali to Texas and beyond... I have that same love for the road but I'm not as fascinated by what's on the other side of the ocean as I am with what's beyond Georgia or what more I can find in Texas and Louisiana.. I love traveling the south...
Wherever my father is I pray he's found peace and a beautiful highway to travel upon. He's got new company with respect to our cousin George Rivers Jr. who passed away on May 9th. I wish I had known sooner but was not told until many weeks later. Happy Father's Day to them both.... in memory.....