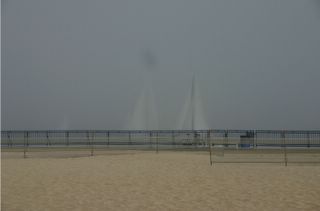 Sunday Sailing

Sunday fun in the sun... I took a little drive time excursion once again with my dear friend KR. This time we didn't do the hood journey or venture off into Nickerson Gardens. Instead, we went to the beach areas; mostly Marina Del Rey. Funny thing though, it was super foggy near the beach. It was like smoke rolling over beautiful houses and sandy beaches. You couldn't see the water at all unless you were right up on it. KR and I walked around. It was good exercise and then I took the picture above which shows the sails in the background. It's almost as if someone drew them there with white chalk even as I'd seen it with my very own eyes before capturing it with the camera lens. Today's outing was short but fabulous as always...
Now I find myself reminiscing about a cool time I had lastnight talking with a beautiful young woman by the name of Christy. She works as a waitress. I meant to blog about her a couple weeks ago when I first laid eyes on her. I wanted to say how cute she was and how she had my creative mind working overtime. I'm not speaking in a sexual way but just as a man observing one of God's gift to the world; a fascinatingly beautiful woman... whew.. And what was even cooler than that was that she was wearing some tennis shoes with her sexy waitress outfit. I thought she looked cute doing that, which probably prevented her from getting really tired with all that walking she does from table to table. Plus I observed as she would try so hard to remember customer orders. She was saying the words to herself so she wouldn't forget. I'll admit that watching her lips was a slightly sensual thing but mostly it was just...ha ha..cute..
Saturday night I discovered a little cleverness to my personality. Actually, it's always been there but sometimes I would get tongue tied especially when those chances presented itself to where I could speak with a dream, such as this lady. Well, what had happened was her fellow waitress whose name I dont know approached me. She told me that I missed out on a party the previous night in which she celebrated her graduation from Cal State Dominguez Hills. I congratulated her but my mind was focused on Christy and that's when the sly brilliance presented itself. I said to this waitress, "I can give you your first post graduation job..."
She looked at me suspiciously and asked carefully "what job?"
I pointed in the direction of Christy and said "hook me up with her!"
The waitress exploded with laughter and sort of brushed me off. Later on she gave my message to Christy and that's when I was blessed with a moment of really cool conversation. I felt proud of myself for taking the chance. I didn't have to feel like Mos Def any more. I make the reference because Christy looks a little bit like Alicia Keys and I felt like I was taking on the role of Mos Def in that video "You Dont Know My Name." It was funny... Unfortunately, Christy is spoken for and that's alright. I hope and pray that lucky man is doing right by her and spoiling her with the attention and sincere compliments that she deserves. Every compliment given to her should be real and not by simply going through the motions... A woman is like perfume....When she speaks, take in the aroma and see what it does to you...